Top five this, top five that. We thought why not a top five Elementor add-on plugin.
Elementor is one of the most popular page builder plugin available in the market right now, if not the best in the bunch. With it's vast array of features such as inline editing, 53+ official elements(Elementor term for widgets) and more it easily lefts the competition behind in functionality.
What Are Elementor Add-ons
Where Elementor really shines(and WordPress in general) is that the opensource nature of it provides other developers with the chance to create a great plugin that extends the capabilities of Elementor even more.
If they don't like something or want to add some new feature, they have the option to do in the form of creating an add-on plugin.
In this blog, we will be discussing the top five must add-on plugin that you should if you are using Elementor as you default page builder. so let's get right into it.
Note: The add-ons we listed are both free and premium options. We just wanted to let you know what will give you the best bang for your time
Elemailer – Drag & Drop email designer with Elementor
We all love Elementor for its interface and flexibility, don't we? Many times we also thought personally wouldn't it be great if we could design our email with Elementor! Now it's possible with Elemailer. The Elemailer lite which is free to use gives you a system to design email template for Elementor pro form, Contact form 7 and more. The paid version gives you Newsletter, Marketing system with Elementor builder.
Free Elementor Email designer – Elemailer Lite
Newsletter, Subscriber, WooCommerce Email design with Elementor- Elemailer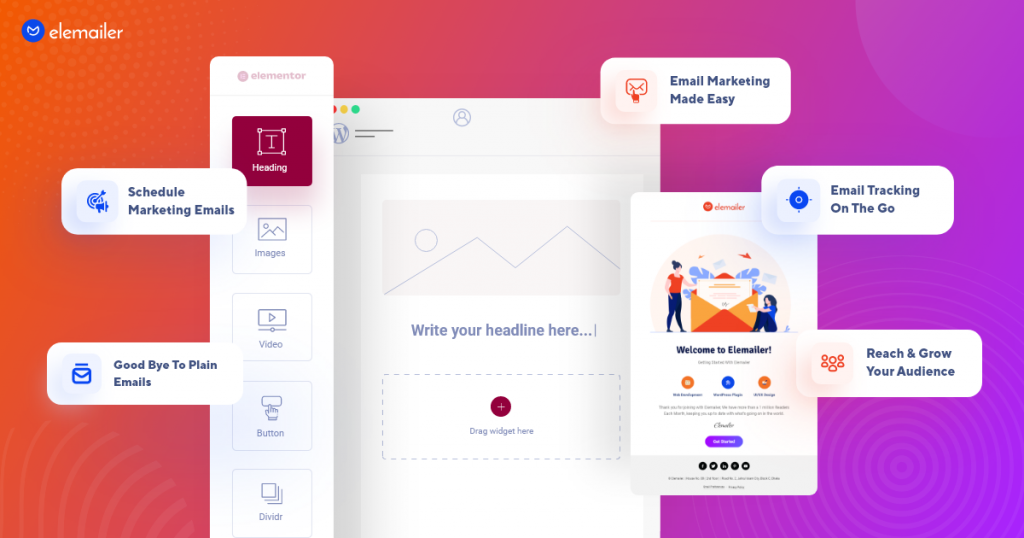 Elementor Addons & Templates – Sizzify Lite
If you should choose any one of these five it has to be this. We mean 20,000+ people couldn't be wrong right.
It is built by the good folks over at Themelsle. It adds a significant amount of Elements in your library that you can choose from right after installation.
But where it really outperforms all the other one is by its WooCommerce specific Elements. It adds a Product category, Recent products, Best selling product, Popular products, Featured products elements to the list which are extremely helpful for all the marketplace owners out. Who wants to provide a different kind of user interface to their customers.
Check out more from this video
WordPress Store Link: Elementor Addons & Templates – Sizzify Lite
Press ElementsPress Elements – Widgets for Elementor
Press Elements is an extremely popular plugin with over 10,000+ active installing. Meaning more than ten thousand people find it useful.
It adds multiple elements to three categories. In the free version, you will get
Site Elements
General site related components integrated into WordPress.
Title – The name of the site.
Description – The tagline.
Logo – Custom site logo.
Counters – General site stats for Post Types, Taxonomies, Comments and Users.
Post Elements
Post related components based on WordPress theme architecture.
Title – The title of the post.
Excerpt – A short description.
Date – Publish date or last modified date.
Author – The post author information.
Terms – The taxonomies assigned to the post.
Featured Image – An image assigned to the post.
Custom Field (Pro) – Extra information saved as WordPress meta-data.
Comments – The default Comments Template included in the theme
There is also a PRO version that comes with more features such as effects, integration to 3rd party services that are supported by Elementor and more.
Learn more from here.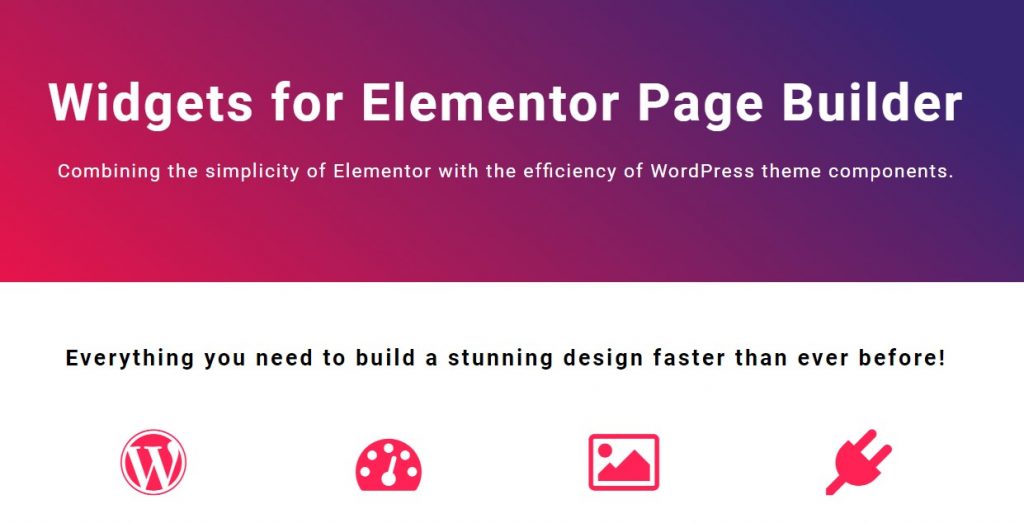 Contact Form 7 Widget For Elementor
We are not gonna lie. This is one of our most popular plugins to date. With 10000+ users currently using it, surely it is worth your time.
It is also FREE to get started. What it primarily does that it eliminates all the complicated process of inserting forms created using Contact Form 7 to your Elementor post. By adding an element to your widget library so you can select your form using a simple drop-down menu.
Read this to get an in-depth idea.
We mean why wouldn't be in the top five free elementor add-ons list.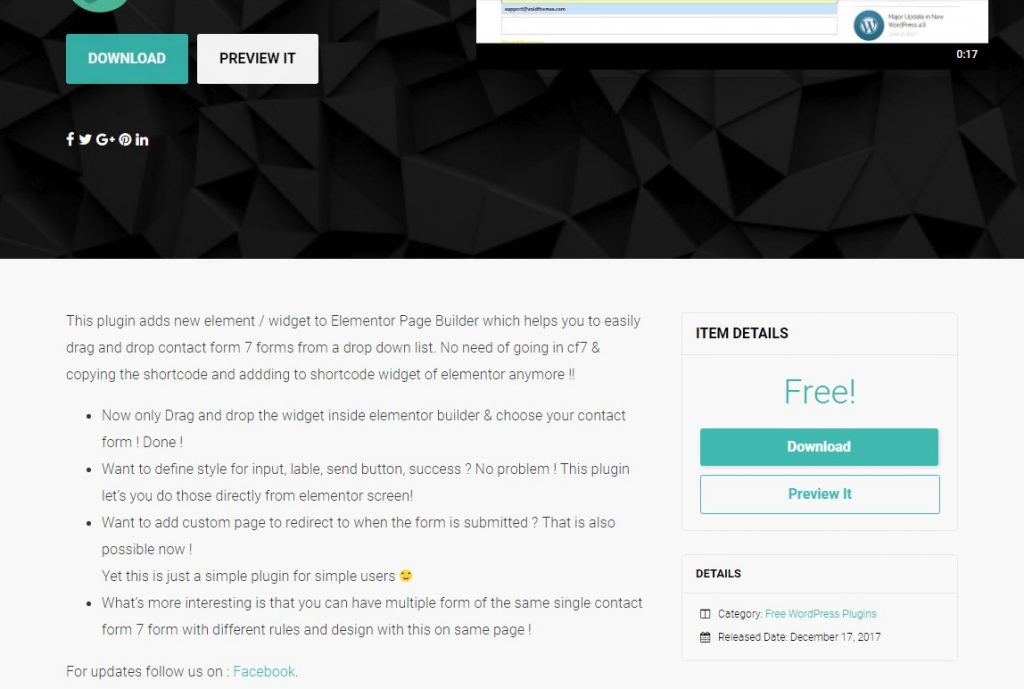 Plugin-Post Grid Add-On For Elementor
Ever saw those beautiful websites with all those pictures in grid view. Whether it be a traveler showing all the places he/she visited or an artists portfolio grid view comes very handy for this situations.
We thought why not make a plugin for that and even better make it COMPLETELY FREE. This plugin will give you grid layout, list layout, minimal grid, first big post then grid, first big post then list option.
You even have the options to control everything. Check out this page to see if are convinced you need this.
Orbit Fox by ThemeIsle
Number five on our list of top free Elementor add-ons is Orbit Fox by ThemeIsle. This is an odd-ball here. According to their self-introduction they are calling it a swiss knife plugin. Well, that's not exactly wrong. It adds various modules to your existing theme including social media sharing button, Google Analytics, page builder add-ons etc.
Heard that last part! Yes, we are talking about Elementor elements.
Tell Us What You Think
Well, there you have it. Our top picks for the best Elementor add-ons that are gonna bring the most value to you. These ones are regualrly updated so you shouldn't face any issue when trying them out on your site.
Let us know if you found them helpful or you think the list is missing something.
We are all ears!