At some point, every website has to go through a major update. So, if you are thinking about making huge changes on your site, you must give your visitors a some form of notice so that they can be aware of the work in progress. Cause who would want to visit a half-broken site?
If you are wondering how to do this? Then you are in luck today! Because I am going to brief you about how you can easily set up Maintenance mode on your WordPress site without any coding knowledge whatsoever.
Key Factors of Maintenance Mode
There are certain key criteria that you must focus on when building a maintenance page.
Nice Layout with little Details
Countdown or Expected Date
Email Subscription
What you must make sure is that you create a beautiful page with a warning that your website is currently going through some major changes. Adding a countdown or an expected date for the site being back online is very crucial for visitors to come back again.
You should also set up a Email Subscription field so that visitors than subscribe to your site and you can notify them when the site is back online. As a result, your potential customers or visitors would know that your site is live and they can come back.
Configure Maintenance mode using SeedProd Plugin
There are plenty of ways you can configure your Maintenance page. If you are good at coding or have depth technical knowledge, you can setup maintenance mode on your WordPress site all by yourself.
Since I have already mentioned that this article is going to be for beginners and no coding is required, I am gonna mention few plugins to make life easier for you. Plugins such as: Maintenance, Download Minimal Coming Soon & Maintenance Mode, WP Maintenance Mode, Coming Soon Page & Maintenance Mode by SeedProd are some of the most widely used Plugins out there for setting up a beautiful landing pages for Maintenance purpose.
Out of all the plugins out there, I would recommend the plugin by SeedProd. Why? Simply because of its easy configuration, nice layouts, advanced pro features and most importantly, reliability.
Key Features:
Ease of use
Live Preview
Beautiful Layouts
Mobile Responsive Backgrounds
Gravity Forms Integration
Integrated with MailChimp & other Email Subscription Plugins
Countdown Feature
SEO Friendly
Easily Customizable
Setting Up Maintenance Mode:
First step would be to install and activate the Coming Soon Page & Maintenance Mode by SeedProd Plugin. Simply navigate to wp-admin -> Plugins -> Add New. Then look for plugin by SeedProd. Install & Activate it.

Once you have activated the plugin, you will be redirected to the Settings page of the Plugin. Under the Content tab, you would see the General settings option.
Since this article is about enabling Maintenance mode. Just select the Enable Maintenance Mode option and click on Save All Changes.

Under the General option, you will see the Page Settings section where you can upload the logo of your company, headline you want to write and set up Message which you want your visitors to see as a notice.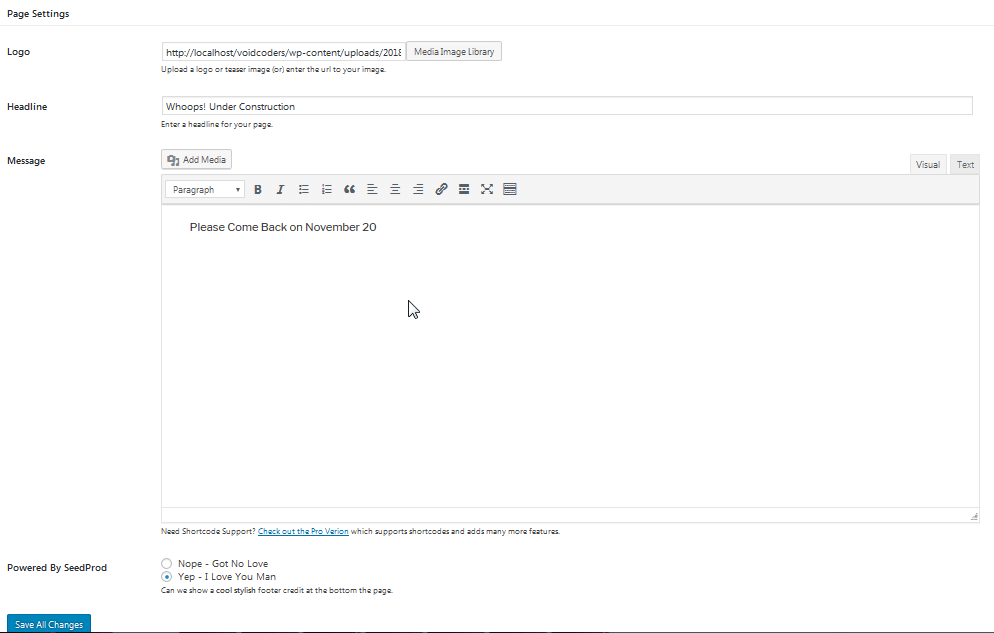 By switching to the Live Preview tab, you can easily see the changes you have made on your site and view how your site would look to the visitors.

Under the Design tab, you will have the freedom to choose the preferred Background Color or a Background Image.
You can enable the Background to be responsive by simply checking the Responsive Background checkbox.
The Design tab also comes up with many Styling features to make your Maintenance page look very professional with ease.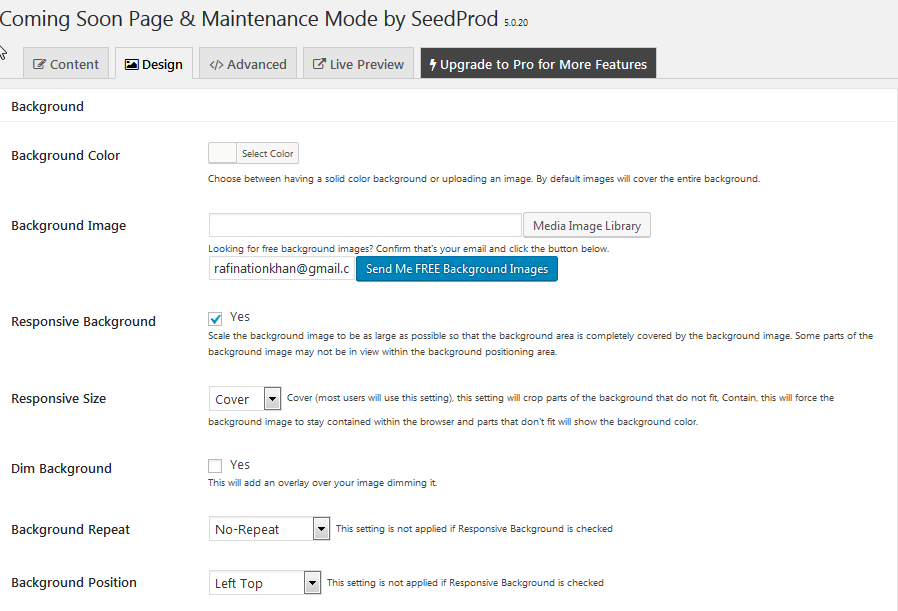 Even though the Free version of this plugin covers all the basic requirements you need to set up your Maintenance page, the Pro version comes with lots of fancy layouts along with more advanced features.
You will have lots of options to choose from to use the preferred layout for your page. The layouts are very professionally designed and look very attractive as well.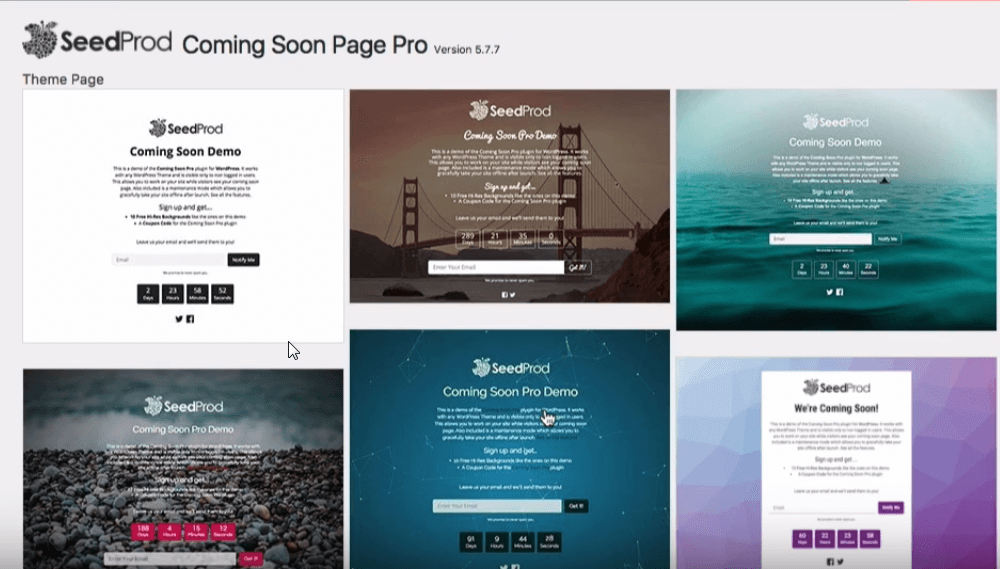 Along with its fascinating designs, the Countdown feature can easily grab your visitors attention. This is something a must have to make your Maintenance page appealing to your visitors.
You can also add the Mail Subscription field so that visitors can leave their email address in the field and you can notify them when your site is back online.
With the help of Email Subscription option, you won't lose your potential customers.
With the Advanced Settings option, you can control in which page you want to show your Maintenance notification. Just to make things easier for you, you will have the flexibility to include/exclude URLs from your site to show the Maintenance page.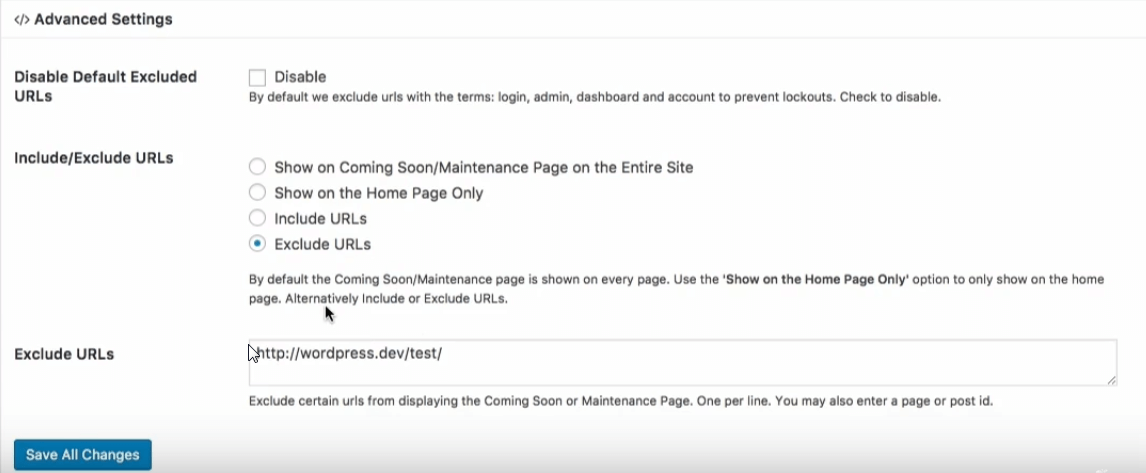 The SeedProd theme customizer is another exciting addition of this plugin's pro version. With the help of live customizer, you can design the theme layout with quite ease.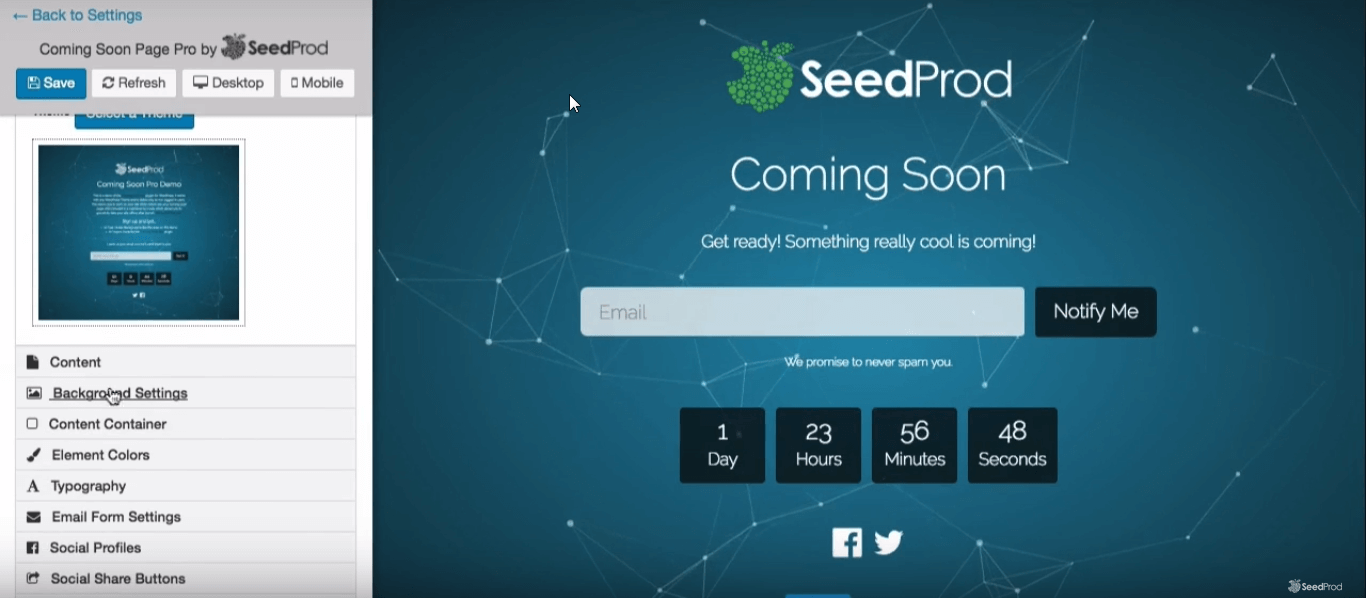 Conclusion
Aside from the functionalities I have mentioned, you can add as much as functionalities as you want for your maintenance page. But remember this, no matter what you do, the ones I have mentioned are really must have for your WordPress site.
To wrap this up, I hope this article will help you out configuring maintenance mode on your WordPress website.
If you have any questions, feel free to leave them in the comments section.