WordPress core is making the jump from jQuery 1.12.4 to jQuery 3.5.1! This is a big deal for lots of reasons — like modern features, better DX, and security improvements to name a few. Right now, the plan is to release the update in WordPress 5.7, which is slated to release on March 9.
First off, as with all of the major releases, there are some updates to the block editor, Gutenberg. This update will bring it to be alongside Gutenberg 9.9, so if we use the plugin, we have probably already seen some of the changes. Another update is that we now have the option to make a block be 100 percent of the height of the viewport or window. A classic example of this would be using the image or cover blocks to create a hero image at the top of the page.Thats something that's taken some time to finagle to create in the past,but should be super simple now.
wordpress 5.5 brought us lazy loading for images and now 5.7 will do the same for iFrames.Now a loading attribute will be added to any iFrame,allowing it to be loaded as the user scrolls down the page as opposed to just on the page load.
And this will basically apply to any video from an external link as well like youtube or vimeo.And it will be a big help in speeding up any page that features an iFrame.
Table of contents
Full Site Editing
Features and improvements
Gutenberg
Full Site Editing
Full site editing is a new feature in WordPress. It allow us to use Gutenberg blocks to create all parts of our website. We can visually design your website header, footer, archive pages, and more visually using Gutenberg editor.Currently, it is working in an experimental feature. We can, however, use it by installing the Gutenberg plugin and an FSE compatible WordPress theme. The core WordPress team is also working on the "Global Styles" feature along with the full site editing feature, which will allow us to adjust our website typography, color scheme, and more globally.
Now we can now visually create Gutenberg blocks to create our entire website and not just a page or post.
Header
Footer
Archive Layouts
Single Layouts
404 page
more.
Global styles feature in Gutenberg is the theme customizer killer.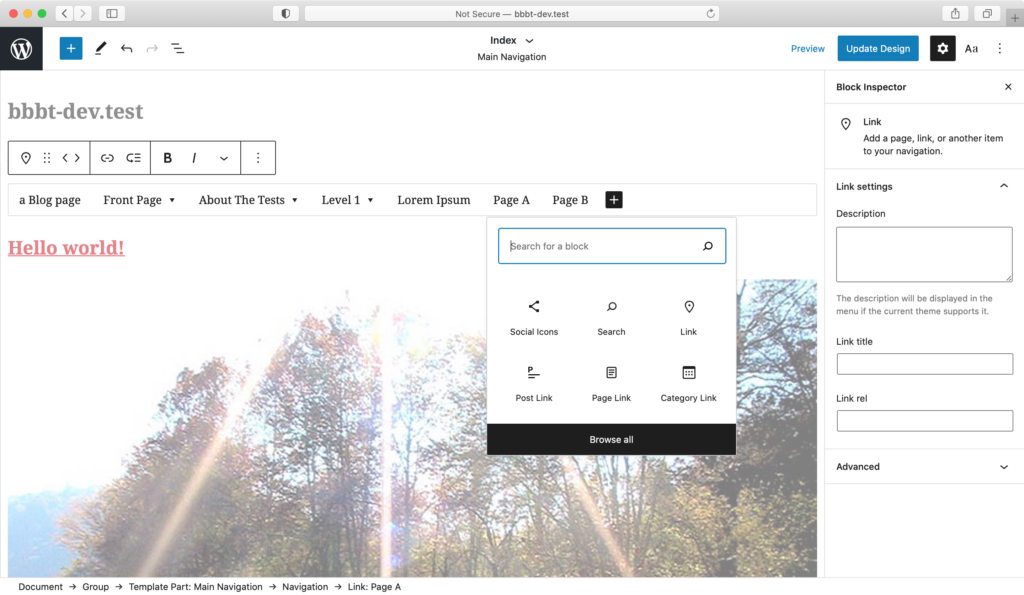 All the global styling is currently done using theme customizer, but with FSE, we will also get a Global Styling panel that behaves similarly to the theme customizer that helps us to configure our all things of the whole website. There is also an option to customize the default styling for each block so that when we add that particular block on a page or post, that styling will be auto-applied (we can customize it, though).
Full Site Editing will use block-based themes. Block templates and block template parts are the core parts of a block-based theme. Gutenberg developers have been building a library of site-building blocks. Most of the basics are already in place: Site Title, Site Tagline, Post Title, Post Content, various metadata and Comments blocks, and more.
There are three specific areas in active development to support Full Site Editing – Template Manipulation, Block Patterns, and Global Styles.
Planned Features and Improvements
The main goal for WordPress in 2021 is Full Site Editing via Gutenberg. WordPress 5.7 will be the first step in that direction.
We may see more features added before the official release, but here is what has been added in WordPress 5.7.
Core
Lazy-load iframes – Enabled by adding the loading="lazy" attribute to iframe tags on the front-end.
Migrating from HTTP to HTTPS – This process now happens in one click! URLs in the database are automatically replaced when the Site and WordPress Address are both using HTTPS. Also, Site Health now includes an HTTPS status check.
Standardize colors used in WP-Admin CSS to a single palette – The palette makes it easy to build components our users can read, because half the range gives you great contrast with white type .
Ongoing cleanup after update to jQuery 3.5.1 – jQuery deprecations in WordPress Core and bundled themes show up a lot less often.
New Robots API – Allows the filter directives to be included in the 'robots' meta tag. Also, the directive max-image-preview:large is now included by default to allow large image previews to be displayed in search engines
Editor
Inserter drag and drop: Blocks and block patterns can now be dragged directly from the inserter into the post canvas.
Full height alignment: Blocks such as the Cover block now can have an option to expand to fill the entire viewport.
Block variations: The icon and description of a block variation is now shown in the block inspector, and a new dropdown in the block inspector lets you switch between block variations.
Reusable blocks: Several enhancements to the usability and stability of reusable blocks have been made, and reusable blocks are now saved at the same time that the post is saved.
Buttons block: The Buttons block now supports vertical alignments, and you can set the width of a button to a preset percentage.
Social Icons block: You can now change the size of the icons in the Social Icons block.
Font size in more places: You can now change the font size in the List and Code blocks.
Many many other enhancements and bug fixes: To see all of the features for each release in detail check out the Gutenberg release.
As with all WP releases, all component maintainers and teams are invited to prioritize their bug-fixes and enhancements for 5.7. To help with WordPress 5.7 ticket. Likewise, they are also asked to continue polishing all of their current interactions and making the UIs more user-friendly.
Whats new in Gutenburg 10.0?
The 100th iteration of the block editor, Gutenberg 10.0 was released on February 17th, 2021, with some new features, improvements, new APIs, and bug fixes.
Features:
This version introduces a new Pages block that allows us to create navigation menus. Also that we can use inside a navigation block or separately.
This release has also made the parent block selector visible and offset in the toolbar. So now we can easily select the parent block when using nested blocks.
Enhancements:
This release has made some important enhancements like a darker social link state for dark themes. The new version has also made many improvements and bug fixes in progress for the navigation, block-based widget screens.
Version 5.7 is Looking Good
The WordPress team is working around the clock to make things better and provide us a seamless CMS (in particular. From every new release, you can expect exciting new improvements and enhancements to the core and editor.
There's a lot more to WordPress 5.7 that you can check out at their
WordPress 5.7 Roadmap:
February 2021: WordPress 5.7 Beta 1 release
March 9, 2021: WordPress 5.7 Release Date
Wrapping Up
Above are the latest features of WordPress 5.7. Our team has been updating our WordPress themes to support this version. Please stay tuned!