Dynamic content

Pop-up builder

Premium designs

Headers and footers

Role manager

Advanced forms

3rd-party integration

A/B testing
Brizy Pro is alike Brizy. Though Brizy has designed with remote different interfaces. But to create web pages with Brizy has become easier than previous plugins.
At first, you should have WordPress account for blogging on localhost. You can use admin search method or upload method to add Brizy on your WordPress.
How to create web pages with Brizy?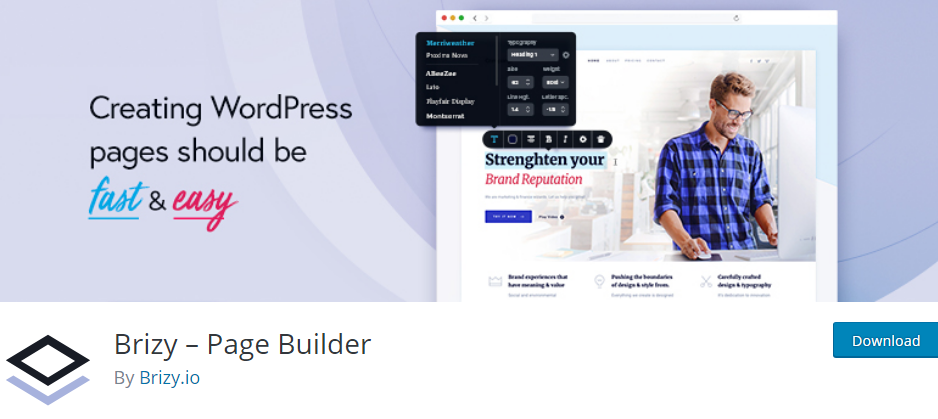 Requirements:
Step By Step:
In each of block sections, edit your site visually.
For example:
 Press on any blocks like Tools That Help You Build Modern Sites
On the right side of block page, contains options with other 7 options
Click on the first left option which asks your consent for Make it Global and Make it Slider
Turn on the Make it a Global option
Now edit this block's each section globally
For saving each section again click on the right corner option and save
You can edit your site by the categorized blocks. All you need to know how mouse and keyboard can use.
All options cover to edit sites. Like typography, colors, align, bold and settings options are compatible with visual editing. As WordPress is quite mobile optimization, Brizy also has this compatibility. So wherever you move, can create and design your site at ease. It also customizes your sites without formality.
Limitations
Sometimes WordPress clashes with Brizy such new web page builders. After or before the installation of Brizy, occurs some problems as it is new. But Brizy has its own limitations.
The color change is not well because it changes all in one click. Sometimes finding preferred colors for sites makes one irritating
The desired customization is not always available
The indeed is Brizy is the bright future web page builder. With the updated configurations, you can do all by yourself. Install free or premium layout for WordPress site designing.
Please leave a comment. We would love to help you with installing and work with Brizy!